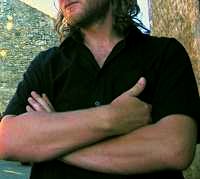 Work
Théotime Gerber, Artist in R&D.
I do image-script and object-background development.
I currently work on www.HO2_(S)ources.com and F.A.U Emmergency Shelter

Publications: In English
Publications: In French
Residences
Plog-in # Propriété Privée, Atelier: Nid de Frelons. Commune de Plogoff / 2009.
Entre Aujourd'hui & Demain, au Presbytère de St-Avit de Viallard dans le Périgord Noir. / 2009.
Few Nocturnes...
Young Artist in China : Beijing, Hangzhou, Shanghaï / Programme du M.A.E / 2006.
Few photographs comming soon...
TV_Show au Laboratoires d'Aubervilliers, with Antonio Ortega of Santa Anna Forum,
Barcelona. / 2005.
Solo Show
Du Bon Pain Pour Tout le Monde à La Mutuelle Découpable (ALPIII) :

(canceled)
Links
See some links here about art, web, crea-tech and design.