>>> || Th2otime.net || >>>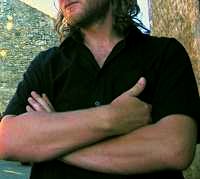 Work
Théotime Gerber, Artist in R&D.
I do images, objects and texts 4 background development.
I currently work on WWW.ART-MAGAZINE.fr and Ho2-(S)ources.com

Publications: In English
Publications: In French
Catalogue de La Jeune Création à la Belleviloise avec le Int.BhB
Catalogues des Expos d'Octobre Aujourdhui plus que Jamais à l'E.S.B.A. Toulouse.
+ Entrée Libre à La Maison Eclusière, Toulouse. see here.
Catalogue Traverse-Vidéo : L'état du monde aux Musées des Abattoirs.
Residences - Works - Ecce Terra
Entre2Mondes Kamerounes Ho2-(S)ources, Conférence de Presse, mars 2019.
N'DRIX electrics-flux extrait de 'BUT WHERE IS MANGUI TANG (?), a cyber-crunch novela [*] GERBER-éditions.
Entre2Mondes Ho2-(S)ources veille statique, Revue de Presse, Mali juillet 2018.
Honky Tonkz Go in Line To the Sylver S.T.A.A.R by Th2otime.G Cissé
Un bouquin AWA WAKBAR #ZERROTZ publié ds la collection No.Funk.Rezet - dépot légal le 11 septembre 2018
EJAIL-TRU-DEN-19-57-BAGNE-2-TARé.e.S
extraits du Facebook périmé, collectés pour art-magazine.fr en 2014
CRIDA - Taller de Sant Jeroni, Casa Solleric, Palma-Majorque / Junio 2011
GOLD-MINE chez IDSLAND / 18 rue Le Bua XX, Panam-City - Commune Libre Belleville-Ménilmontant / fev-avril 2011.
Plog-in # Propriété Privée, Atelier: Nid de Frelons. Commune de Plogoff / 2009.
Entre Aujourd'hui & Demain, au Presbytère de St-Avit de Viallard dans le Périgord Noir. / 2009.

Young Artist in China : Beijing, Hangzhou, Shanghaï / Intercambio M.A.E 2006 / clic the PDF.
Few photographs comming soon... see here
TV_Show au Laboratoires d'Aubervilliers, with Antonio Ortega of Santa Anna Forum,
Barcelona. / 2005.
Solo Show
Du Bon Pain Pour Tout le Monde à La Mutuelle Découpable (ALPIII Toulouse 2006) :

(canceled)
Links
See some links here about art-web-crea-tech-zine.